IN/FLUX at Pelham Art Center

Pelham Art Center presents IN/FLUX (Sept. 20th – Nov. 3rd), a visual art exhibition of people in flux, or an influx of people, bringing together immigrant and first generation artists curated by Executive Director Charlotte Mouquin and Gallery Advisory Board Member Victoria Rolett. Each artist responds to immigration stories through their unique vantage point in a time of diverging world views. Challenging norms, these artists place an up-close lens on historical and present-day issues surrounding traversing the globe, including the travails of oppression betwixt borders. Utilizing a variety of art media, they reflect the complexity of immigrant experience through installation, sculpture, encaustic, photography, design, collage, and bio art.
Artists: Corina S. Alvarezdelugo (Venezuelan) , Selin Balci (Turkish), Nicky Enright (Ecuadorian-American), David Rios Ferreira (first generation Puerto Rican), Alejandra Hernandez (first generation Mexican), Jenny Polak (British), Omid Shekari (Iranian), Ruben Natal San Miguel (Puerto Rican), Natalia Nakazawa (first generation Uruguayan/Japanese American) and Victoria-Idongesit Udondian (Nigerian).

---
---
---
By Eli Zeger, City Paper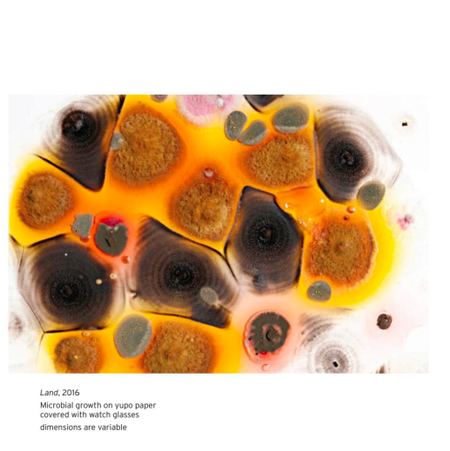 "Selin Balci also considers space exploration, though it's from a more removed perspective. Balci's piece is a magnified image of a series of petri dishes, with each simultaneously functioning as zoomed-in representations of cells. It's large and spreads across most of the wall—most visible, like a microscope, from far away. When you take three or four steps back, 'Land' forms a constellation of sorts in which the dishes are gathered in clusters that meander in a downward slope. In the past, Balci has organized them into the worldmap, and in 'Land' she uses these petri dishes, which quarantine the smallest of humanly known substances and each act like their own star, to emblematize outer space phenomena—the most humanly inconceivable shit ever, really. The piece is a convergence of the most extreme forms of zooming-in and zooming-out. For Balci, microscopes might as well be telescopes."
---